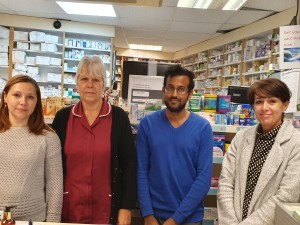 Welcome to Acorn Pharmacy. 95 Locks Hill, Frome, Somerset, BA11 1NG. 01373 473693.
Open Monday to Friday 9am to 5pm. Closed for lunch 1pm to 2pm.
Closed on Saturday and Sunday.
Spring 2021 is here.  Come and see our friendly Pharmacists, Tatiana or Asif for all your essential products, and lots more besides.  Ably supported by Sue,  Kashif and Dawn.
We are Frome's original independent pharmacy bringing you the best to serve your needs and the community, this is why we are different. We value individuals and are dedicated to provide total satisfaction.
Services Offered

Minor ailments Scheme : This involves treatment for the following common illnesses:
* Impetigo.
* Cystitis.
* Conjunctivitis.

NHS Healthchecks.  Free cholesterol and blood glucose testing for eligible patients between 40-74.
Antibiotics can be provided for the above three infections without having to visit your GP

*Emergency Hormonal Contraception is also available. (chargeable)

*Needle exchange.